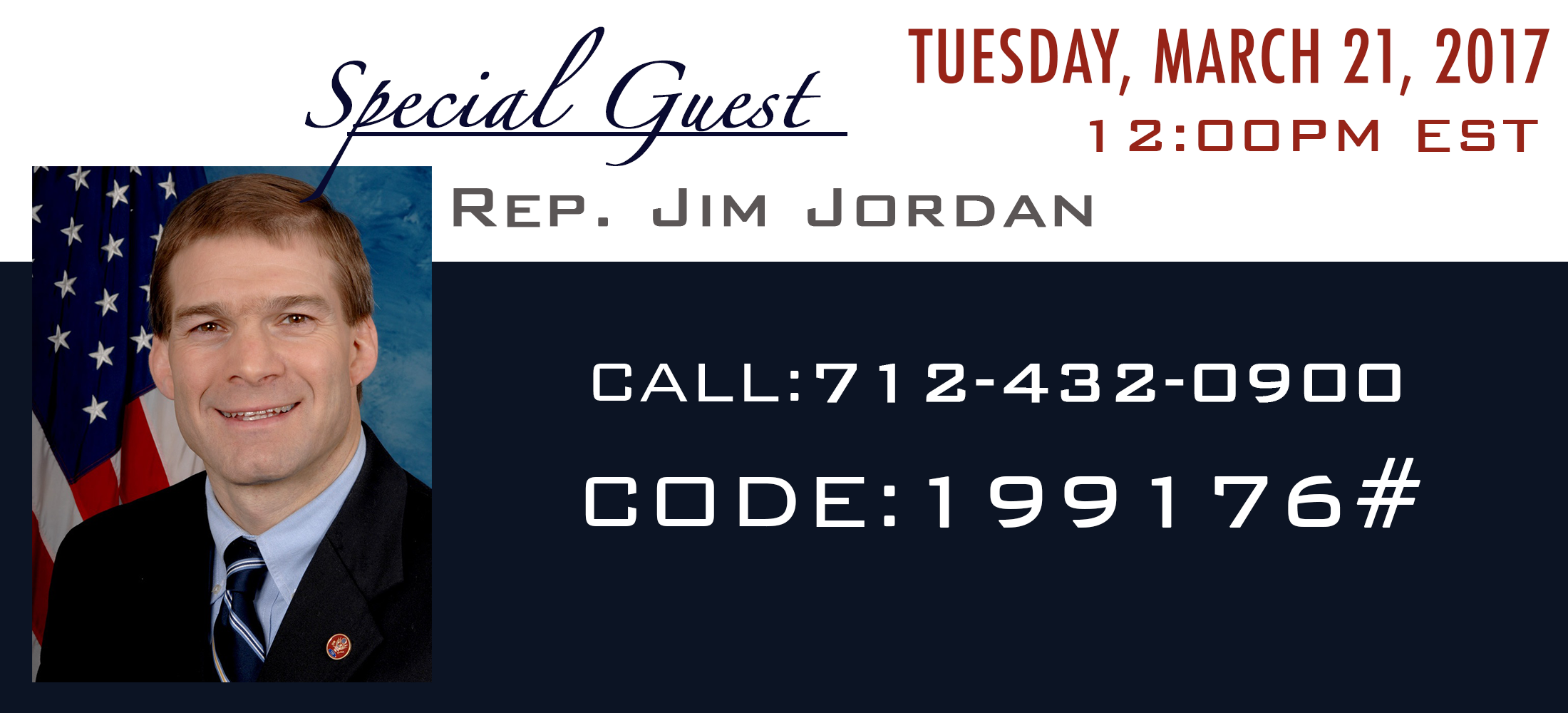 Dear Robert,
Rep. Jim Jordan will be joining us to discuss the GOP's healthcare proposal, and why the House Freedom Caucus is opposing it. Rep. Jordan does not believe that the GOP's proposal goes far enough to fully repeal Obamacare.
Jim Jordan is a fiscal conservative who believes that families and taxpayers, rather than government, know best how to make decisions with their money. Throughout his career, Jim Jordan has led the fight against tax hikes, including those proposed by his own political party. He believes that cutting taxes and letting families keep more of what they earn helps build strong communities and a vibrant economy.


In Congress, Jordan has also emerged as a prominent defender of the taxpayer's pocketbook through his work on spending issues. In 2009, he introduced the only balanced budget alternative to President Obama's budget. In the 112th Congress, Jordan served as Chairman of the House Republican Study Committee, the largest caucus of conservatives, advancing conservative ideas and solutions on Capitol Hill. In the 114th Congress, Jordan helped found the House Freedom Caucus, and served as its first Chairman. >>click here to read Jordan's full bio<<
With this track record of serving the American people and fighting bad policy that ultimately takes more money and more freedom away from Americans, I am interested in what Congressman Jordan has to say about the AHCA.
The call will go live TODAY, March 21 at 12:00 pm (EST). Dial 712-432-0900 and enter code 199176#. If you would like to ask a question, dial *6 to get in queue.

Contact Us
S.T.A.N.D.
P.O. Box 15022

Chesapeake, Virginia 23328
757-375-6444
stand@standamerica.us