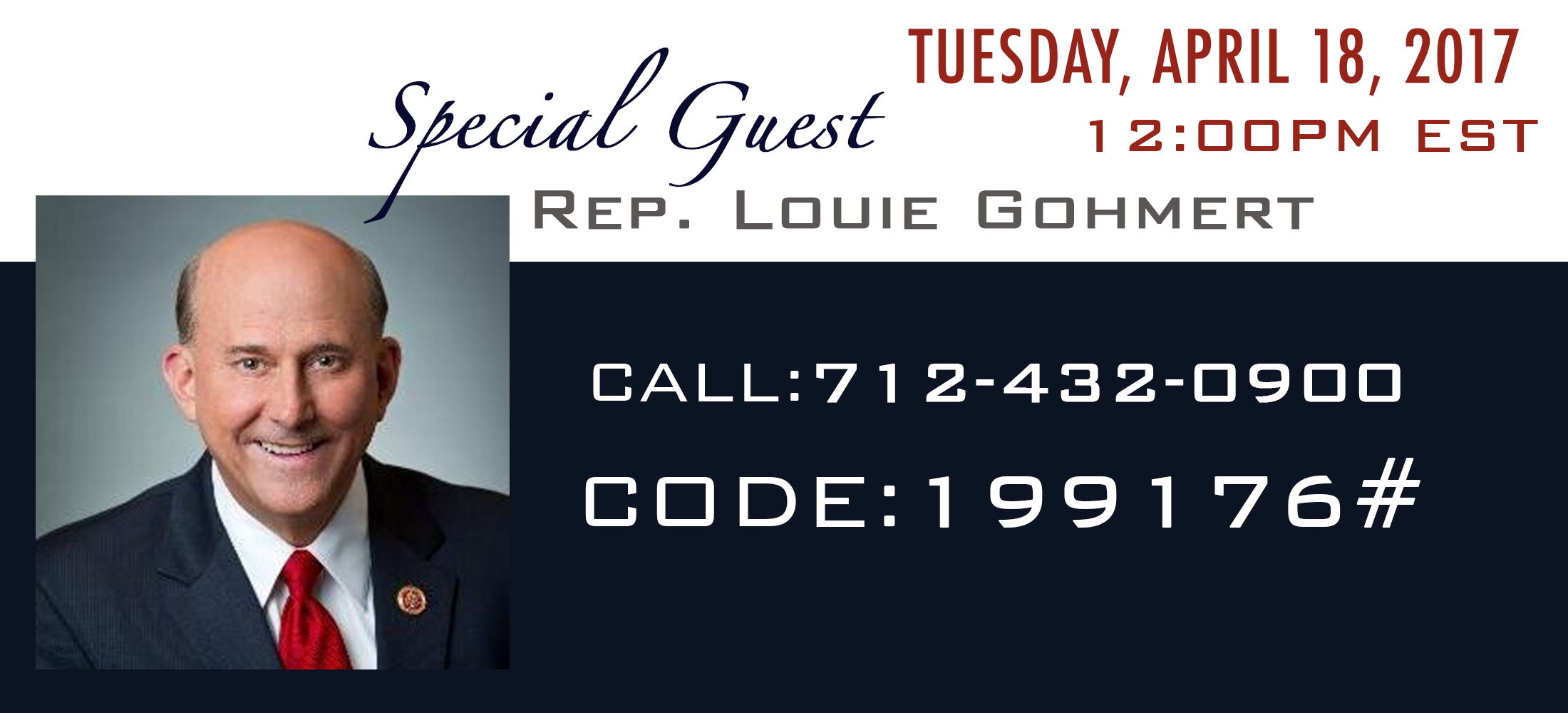 Rep. Louie Gohmert
Dear Robert,
This week I am honored to have Congressman Louie Gohmert on the call.
Serving his seventh term in the United States House of Representatives, Congressman Louie Gohmert was first sworn in January 4, 2005. He proudly represents the First District of Texas which encompasses over 12 counties stretching nearly 120 miles down the state's eastern border.

A favorite among Tea Party groups, Louie speaks often as a fellow Tea Party advocate across Texas and the United States. He boldly stands on America's founding principles and is constantly coming up with big, innovative ideas solidly based on Constitutional fundamentals.

Louie serves on numerous House committees and subcommittees. Congressman Gohmert is the Vice Chairman of the House Natural Resources Committee and the Vice Chair of the Judiciary Subcommittee on Crime, Terrorism and Homeland Security.

Prior to being elected to serve in Congress, Louie was elected to three terms as District Judge in Smith County, Texas. During his tenure on the bench, he gained national and international attention for some of his innovative rulings. He was later appointed by Texas Governor Rick Perry to complete a term as Chief Justice of the 12th Court of Appeals.

Rep. Gohmert will be giving us an update on Congress and its work with the Trump administration, and commenting on the healthcare issue.

The call will go live April 18 at 12:00 pm (EST). Dial 712-432-0900 and enter code 199176#. If you would like to ask a question, dial *6 to get in queue.

Contact Us
S.T.A.N.D. Foundation, Inc.
P.O. Box 15022

Chesapeake, Virginia 23328
757-375-6444
stand@standamerica.us