December 30, 2022
Dear Friend,
As the year comes to a close, I wanted to share some top highlights of the work my office has done on behalf of the people of South Carolina and to advance my Opportunity Agenda across the country. Please remember to follow me on Facebook, Twitter, Instagram, LinkedIn, and YouTube for regular updates on how I am serving the people of South Carolina!
Legislative Wins
This year, I introduced 18 bills, 7 resolutions, and 13 amendments. Twenty-one pieces of my legislation were in part or fully enacted this year!
Before the 117th Congress adjourned for the year, Democrats rushed a bloated omnibus spending package through. While I opposed their ramped up spending, I was able to secure passage of many bills and provisions that I led or supported in the accompanying legislative package. Click here to read a full list of those wins.
Serving South Carolina
Constituent relations has been a priority of mine since I first entered Congress, and it remains a top priority. Throughout this year, my communication with constituents increased by nearly 70% through our letter program, amounting to more than 17,000 letters sent in 2022 alone. I was also able to help thousands of South Carolinians through casework, fixing issues with federal agencies, delayed passports, or missing benefits.
This year, I was able to continue to provide support and aid to the South Carolina Port Authority in its harbor deepening project. Earlier this month, I joined leaders from around the state to celebrate Charleston becoming home to the deepest port on the East Coast.
I believe in the power of small businesses, and because of this focus and my team's efforts, we were able to strengthen the Minority Business Development Agency, securing South Carolina a grant for $1.6 million.
Standing with Law Enforcement
Our law enforcement officers need our support now more than ever. That's why I've committed to increase funding for training for police departments across the country. I was honored to receive a number of awards from law enforcement organizations in recognition of this work. At the beginning of this month, I received the Federal Law Enforcement Foundation's National Service Award. In July, the Florida Sheriffs Association's awarded me their National Legislative Champion Award, and in February, Major County Sheriffs of America, gave me their legislative champion award.
The Law Enforcement De-escalation Training Act that I sponsored was passed and signed into law. This bill will equip law enforcement officers with the tools to effectively and safely respond to people in crisis. The new requirements for developing de-escalation training standards contained in the bill are the same requirements included in my JUSTICE Act, which was introduced in 2020.
Striving for Justice & Fairness
One of the marquee achievements this year was the passage of my anti-lynching legislation, named in honor of Emmett Till. I first introduced the bipartisan legislation in 2018. This is a key component of my broader mission to combat hate crimes, which has included speaking out against bomb threats at HBCUs and forming the Senate Caucus on Black-Jewish Relations.
To ensure all Americans have the fair access to disaster relief, I worked to have FEMA change its disaster relief policies that discriminated against Black homeowners. Known as heirs property, more than a third of Black-owned land in the South is passed down informally, rather than through deeds and wills, which precluded those land owners from getting much-needed FEMA aid after natural disasters. Following this push and policy change, 42,000 homeowners and 53,000 renters nationwide—who would have previously been denied—received disaster assistance, totaling $350 million.
Fighting for Common Sense, Parents, and Students
As the co-chair of the Congressional School Choice Caucus, I hosted the inaugural School Choice Caucus Breakfast with dozens of Congressional and education leaders to call attention to the growing nationwide support for school choice and fight against the Biden administration's attempts to limit education options for students. I also led the charge to get answers from Education Secretary Miguel Cardona on his coordination with the National School Boards Association that led to concerned parents being labeled as domestic terrorists.
As the co-chair of the bipartisan HBCU Caucus, I was able to host the first ever HBCU Career Fair in conjunction with Benedict College. The event served as a forum to foster public-private partnerships and introduce students and alumni to career, fellowship, and internship opportunities with South Carolina's top employers.
As the co-chair of the Congressional Financial Literacy Caucus, I had the opportunity to co-lead a resolution designating April as Financial Literacy Month and led a forum on the importance of youth financial literacy. Additionally, I spearheaded efforts to build consumers' financial capability and broader economic well-being.
Standing Up for Seniors
Serving as the ranking member on the Aging Committee, my team led the charge to reopen Social Security field offices. After being closed for more than a year due to COVID, our pressure campaign to reopen allowed seniors and people with disabilities to once again receive in-person services for the benefits they deserve.
Throughout the year, we led a series of reports on issues that represent national imperatives for older Americans including senior nutrition programs, financial literacy, senior housing, retirement security, drug pricing, and home and community-based services. Our efforts also focused on combating frauds and scams that target seniors through the publication of an annual Fraud Book, holding hearings investigating frauds, and implementing a Fraud Hotline to support seniors.
Expanding Health Care
Through combined efforts with my Senate colleagues, we urged the Centers for Medicare and Medicaid Services (CMS) to support and strengthen the Medicare Advantage (MA) program. With great success, CMS announced lower than expected premiums for individuals utilizing the MA program, which covers one third of the Medicare enrollees across South Carolina.
Strengthening America & Supporting our Allies
I will always stand with our Israeli allies and fight against threats to peace and stability in the Middle East. That's why I introduced the Commission of Inquiry (COI) Elimination Act, a bipartisan bill to withhold U.S. funding for the United Nation Human Rights Council (UNHRC) for their targeted and biased investigation into Israel.
I also introduced the Solidify Iran Sanctions Act, which would make permanent sanctions against Iran's energy sector.
Looking Ahead
I would not have been able to do all this important work without your continued support. Thank you for putting your faith in me and my team as we continue to fight for you. As we look ahead to 2023, I look forward to the new challenges and opportunities to deliver even more results. I wish you and your family many blessings and good health in the New Year.

Sincerely,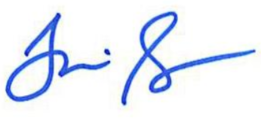 Lowcountry
2500 City Hall Lane
3rd Floor Suite
North Charleston, SC 29406
Phone: (843) 727-4525
Fax: (855) 802-9355


Midlands
1901 Main Street
Suite 1425
Columbia, SC 29201
Phone: (803) 771-6112
Fax: (855) 802-9355


Upstate
301 North Main Street
Suite 1006
Greenville, SC 29601
Phone: (864) 233-5366
Fax: (855) 802-9355


Washington, DC
104 Hart Senate Office Building
Washington, DC 20510
Phone: (202) 224-6121
Toll Free: (855) 425-6324
Fax: (202) 228-5143

Click here to open a plain text version of this email Click here to forward this email Click here to open this e-mail in its own browser window